UCATT members vote to join pension strike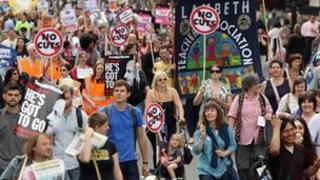 Members of the building workers union UCATT have voted to join a national strike on 30 November against public sector pension changes.
Of the 15,231 members balloted, 3,417 voted to strike and 692 voted against: an 83% majority on a 27% turnout.
The TUC's day of action now has the support of 14 trade unions, with more still to declare their ballot results.
The unions object to government plans to make their members pay more and work longer to earn their pensions.
The UCATT members involved typically work as maintenance staff for local authorities, the NHS, the prison service and the civil service.
George Guy, UCATT's acting general secretary, said: "UCATT members do not take industrial action lightly.
"The level of support for strike action underlines just how worried our members are about the future of their pensions."