Australia's uranium industry poised for growth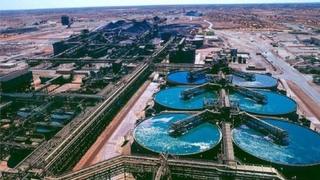 Australia's uranium producers are predicting lucrative times ahead as demand from Asia overshadows the negative effects of Japan's nuclear disaster.
Global demand and prices have fallen in the aftermath of the radioactive leaks at the power plant in Fukushima in March.
However, a push by the Australian Prime Minister, Julia Gillard, to sell radioactive fuel to India has boosted optimism in the industry.
Australia supplies about 13% of the world's uranium, behind Canada and Kazakhstan, but buried in the red dust of the vast outback lies an estimated 40% of the world's known reserves of this valuable yet controversial commodity.
Simon Clarke, from the Australian Uranium Association, told the BBC that the sector had taken stock of the terrible events in eastern Japan and was ready to move on.
"Fukushima caused the global nuclear industry to pause and to learn the lessons from that accident," he said.
"I think it is robust enough to bounce back. The fundamental reasons why countries opt for nuclear energy as part of their electricity generating portfolios hasn't changed. Many countries still see nuclear energy as a secure and reliable source of electricity."
Prof Tony Owen from the School of Energy and Resources in Adelaide believes that while the global industry still faces uncertainty, the spread of nuclear power is likely to increase.
"Asia sees little alternative, so future increases in demand will be driven by China, South Korea and India," Prof Owen told the BBC News website.
"Nuclear has significant benefits in terms of energy security and greenhouse gas emissions. It is currently the only base load technology that can deliver the ambitious CO2 emission reduction targets in Western Europe at reasonable cost."
Australia has four uranium mines. In South Australia, the facility at Beverley is run by the Americans, while the Honeymoon project is Russian-owned. At the other end of the country, resources giant Rio Tinto has a controlling stake in the Ranger mine in the Northern Territory.
Sale to India
A debate is raging, however, over Ms Gillard's push to overturn a ban on selling uranium to India.
Delhi has insisted that the Nuclear Non-Proliferation Treaty is flawed and discriminatory, and won't sign it.
But Australia's Resources Minister Martin Ferguson is unconcerned.
"India is not a rogue nuclear nation. We can sell uranium to countries such as China and Russia, but our existing policy (towards India) is outdated, it's a hangover from the 1970s. It was appropriate in the 1970s but the world has moved on," he said.
The United States certainly thinks so too. Washington struck a nuclear co-operation deal with India in 2008 that permitted uranium exports for civil use.
Australian producers are watching and waiting.
"If the government changed its policy in relation to uranium sales to India and ensures the appropriate safeguards are in place, we would review our position and take those matters into consideration," said Samantha Stevens from BHP Billiton, which owns the mighty Olympic Dam mine 600km north of Adelaide.
It is the biggest uranium facility anywhere, and expansion plans could see its annual 4,000-tonne capacity soar to 19,000 tonnes.
"The Olympic Dam project has the potential to be a game-changer and could transform Australian uranium production into the world leader," explained Simon Clarke.
Environmental pollution
However, Canberra's plans to end its long-standing embargo have alarmed the Greens leader, Bob Brown.
"It's going to be pretty horrifying for many Australians," he told ABC television. "It's specious to think sending Australian uranium to India is not going to bolster its ability to put uranium into nuclear weapons."
There is also dissent within government ranks.
Stephen Jones, a Labor backbencher, said he would resist any move to lift the sales ban.
"It is not about India. It is about the fact that I oppose exporting uranium full stop. I don't believe it is safe. It's got a legacy that is going to be polluting the environment for hundreds and hundreds and hundreds of years to come," Mr Jones explained.
But Ms Gillard has said that shipping radioactive fuel material to India would be good for Australian jobs and the economy.
And she is likely to get her way next month when the governing Labor party meets at its national conference in Sydney to consider whether to allow sales to India.
Diplomatic forces are at work too. Canberra is keen to play a full and prosperous part in what government officials describe as the "Asian century", where India will be an increasingly dominant force.