Apple names Arthur Levinson as chairman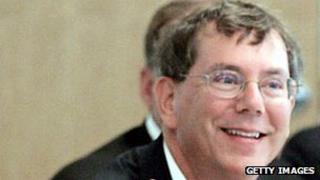 The world's most valuable technology company, Apple, has named long-serving director Arthur Levinson as chairman of the board.
The post had been vacant since Apple co-founder Steve Jobs died in early October.
Mr Levinson is chairman of Genentech and has been co-lead director on Apple's board, which he joined in 2000, since 2005.
Apple has also appointed Disney boss Robert Iger to its board of directors.
"Apple is always focused on out-innovating itself... and that is something I am very proud to be a part of," Mr Levinson said in a statement.
Apple shares were up by 2.5% at $388.83 following the news.
'A great fit'
The chairman's appointment was being keenly watched amid concerns about the company's management style in the post-Jobs era.
There has been speculation that without Mr Jobs at the helm, Apple's board may play a bigger role in day-to-day operations.
Tim Cook, Apple's chief executive, praised Mr Levinson for his contributions to the company, saying "his insight and leadership are incredibly valuable".
He also said Robert Iger was "a great fit" and his experience of heading a company like Disney, which is focused on generating creative content and using new technology, would be a valuable asset for Apple.