Looking into the future of Epson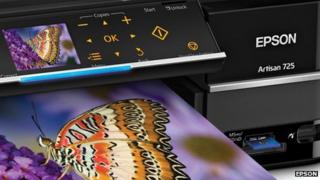 Each week we ask high-profile technology decision-makers three questions.
With a history that spans more than 100 years, the company as it is known today was officially founded in 1942. Since then Epson has grown into a household name in printing.
Originally a watchmaker, the company now specialises in compact, energy-saving and high-precision products.
With a workforce of 78,000 working across some 99 companies, Epson is seeking to adapt in a world where its technologies are changing rapidly.
Chief executive Minoru Usui, who also acts as the firm's chief technology officer, gave the BBC a rare interview to discuss where he is taking the company in the coming years.
What's your biggest technology problem right now?
Epson has a lot of businesses and a lot of technologies. However, the problem we've had in the past is focusing on the ones that can provide the most value for our customers.
We obviously had to put a lot of money into research and development. But because we couldn't focus on our strengths, it was spread around a lot of businesses and it was difficult to find profitability.
We had this problem of a lack of focus in our business. So we did a review to see where our true strengths were lying. We came to the conclusion we had core technologies in areas like printing, projection and sensing.
In the past we were only focused on some very narrow customer groups, but now because we're actually focusing on these core technologies we've been able to spread them into various other markets.
And so our issue was then to focus on these technologies and leverage them.
At present the biggest issue we're facing is that each employee, each engineer, has got to be fully aware of what mega-trends exist in the world, understand what exactly do people in each market want, and then link that to the core technologies that I mentioned earlier and develop products that actually find value for the customers in these markets.
It's essential that all the engineers don't lose sight of those goals. We have to create a structure so that everybody can actually focus on what the customers want. That's what we're working on right now.
In the past Epson divided its businesses into two main categories. One was finished products - for example printers, projectors - and the other was electronic components, for example semi-conductors.
We had this division, but what we found was, especially in the electronic components category, we were unable to maintain our technical leadership. We had to stay ahead of the game the whole time but the trends changed so fast, the technology wasn't able to keep up.
What's the next big tech thing in your industry?
Environmental technologies. Our core technologies all have three main attributes: they're energy saving, they're compact and they're high precision.
These technologies that we have we think are very well suited for this environmental technology growth.
3D printing is very possible, we're developing 3D at the moment. We think in a few years it will be possible to print on demand in 3D. We have to check the market as well - it's just a development project at the moment.
We think it's possible that it may exist in the home one day, but the first step would be business, or the office, or industry.
We think that inkjet printing is the most simple type of printing method - it's good for the environment, you basically just fire the substance you want at the media and it's printed. It cuts out a lot of the intermediate processes that you find in industrial printing.
We think the way the industry is moving is that this inkjet printing is suitable for a number of techniques that are currently used in industry - for example printing on textiles, printing labels, even things like wallpaper.
With regards to the cloud, we think this offers excellent opportunities, it's obviously going to grow and grow. We're not just talking about, for example, cloud printing. We have a background in making watches. Now it will be possible to put on a wristwatch-type device which will check your body condition and feed it up into the cloud and get feedback. In October we launched a similar product in Japan.
Last week, we announced a mobile viewer that will allow you to watch movies or check the internet while you're on the go. We think the cloud offers excellent opportunities, there's going to be a lot of growth there - you're going to be able to check, see whatever you want, whenever you want, when you're at home or in the office. We also think that our core technologies - the compact, the energy saving and high-precision technologies - make us ideally suited to get on this trend.
We've got emerging markets coming on very strongly now and previously perhaps we've had just one type of product fits all.
But now the big thing going forward is to customise our products exactly to customers in each individual market. That's another thing that's going to become very big.
What's the biggest technology mistake you've ever made - either at work or in your own life?
I worked on something called a video printer. This used a thermal type of print head - it was a completely unique print head. There were very high expectations for this in the company.
It was a photo printing technology linked up to the TV and you could print what was on the screen. However, this was back in the 1980s so there were two big problems with this. The first was that there weren't any images on TV that people wanted to print.
The second problem was that the quality of the screens wasn't all that good, and to actually print images from a TV screen, you need large amounts of memory.
Perhaps if you did it now it wouldn't be such an issue, however at the time, memory was extremely expensive and so for the amount of memory that we needed, it meant that the product itself was going to be astronomically expensive. You could only make a really high-end product.
Printers have very high photo-quality now. And memory was a lot cheaper than what it was back in the 80s. It would be a much better product and much cheaper than when I tried it back in the 80s and 90s.
We would certainly not do it again with the thermal format that we tried in the past. However the thought behind this failure was that people would one day want to print out photos whenever they wanted. In a way, although that product failed, the idea behind it was actually the drive behind our current business.
It was a pioneer - a bit ahead of its time.
Mr Usui spoke to the BBC via an interpreter.