US retail sales see steady October growth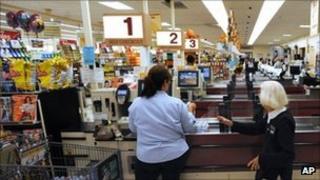 US retail sales rose again in October, offering further signs of hope to the country's economy.
Sales were up by 0.5% over the previous month, beating economists' forecasts, and following a 1.1% rise the previous month.
US Department of Commerce figures showed sales rose in a number of sectors, including motor vehicles, electrical goods and groceries.
It was the fifth straight month that sales had increased.
The data is closely watched because consumer spending accounts for 70% of US economic activity.
Mixed picture
Excluding vehicle sales the data showed a 0.7% gain, the biggest rise in so-called "core" sales since March.
For the year as a whole total sales registered a 7.2% improvement.
Not all sectors reported better numbers. Sales at clothing stores fell 0.7% last month, the largest fall since December 2010, and furniture sales also fell by 0.7%.
That was offset by a rise in sales of electrical goods and appliances of 3.7%, and receipts from building material retailers increased by 1.5%.
"The economy seems to be in solid shape," said Alex Hoder, an economist at FTN Financial in New York.
"Growth is not strong, but it is not too bad either, and much better than the fourth-quarter recession many were expecting just a few months ago."