Manchester United commercial revenues rise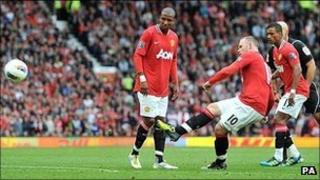 Manchester United has boosted its revenues during the three months to September by 16.6% to £73.8m.
The club, currently second in the Premier League, saw commercial revenues from sponsorship and licensing deals increase by 22%, to £29.6m.
Income was boosted by DHL's agreement earlier this year to sponsor the club's training kit.
However, the club reported a pre-tax loss of £6.9m, mainly due to currency fluctuations on its debt.
Manchester United also signed a deal with Vietnamese mobile phone group Beeline, with the club having an estimated 16 million fans in the South East Asian country.
Success in the Champions League helped boost media revenues, up from £19.4m to £22.6m.
The results helped the club reduce its debt pile to £433m compared with the same period last year.
However, it also drew down on its cash reserve, which more than halved to £65m.
In September, the club received permission to float some of its shares on the Singapore stock exchange - potentially raising funds to tackle its debt.
However, market volatility appears to have put the plans on hold.
Last season, Manchester United won the Premier League and reached the final of the Champions League against Barcelona.
The club was bought by the US-based Glazer family for £800m in 2005.
The purchase has been criticised by fans' groups because of the amount of debt put onto the club as part of the deal.