Website glitch at Avios - BA's new Airmiles scheme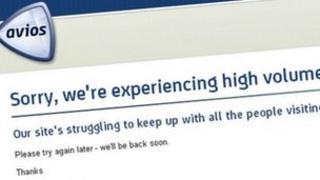 The Airmiles reward scheme has been relaunched under the name of Avios - although it was initially hit by website problems.
The Mileage Company, which runs the scheme, said access to the new website was affected by high user numbers.
The loyalty scheme, with two million members saving points awarded by various retailers, has been rebranded as Avios after 23 years in operation.
Passengers face taxes and charges under the revamped offer.
Free BA flights have been in place for those with enough points since 2008, but the company said rising passenger duty had made this impossible to continue.
Access issues
The website went live as planned at 08:00 GMT but, later in the morning, it suffered technical difficulties.
A spokeswoman for The Mileage Company said the service was working properly by 14:00 GMT, but anyone worried or keen to find out more about their accounts could contact the Avios call centre.
The relaunch came as the result of BA's merger with Spanish airline Iberia.
Members of Airmiles, BA Executive Club, and Iberia Plus - a total of around eight million people - will now all come under the Avios reward scheme umbrella.
The name was changed because IAG - the parent firm of BA and Iberia - does not own the Airmiles name globally.
Flight costs
Since Monday, Airmiles points have been converted into Avios points at a rate of one to 10, so 600 Airmiles points have become 6,000 Avios points.
Members can still redeem their Airmiles points by booking over the telephone until 15 December, but otherwise deals will be offered under the terms and conditions of Avios.
Many destinations will see a direct equivalent of points required for a flight, although a trip to New York will require fewer, and Paris more.
However, passengers now face having to pay taxes, fees and charges which could amount to around £30 to European destinations, £300 to New York and £500 to Australia.
Unlike with Airmiles, the Avios scheme allows passengers to use points for one-way flights and some flights in and out of different airports.
As well as frequent fliers, points can be collected from stores and services including Tesco, Lloyds, and Shell.