Wal-Mart sales up in third quarter but profits slip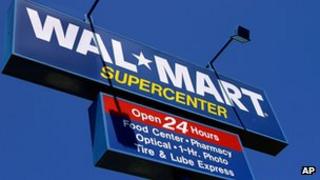 US retail giant Wal-Mart has unveiled a drop in quarterly profits, despite a strong increase in sales.
The firm said profits were $3.3bn (£2.07bn; 2.43bn euros) in the three months to 31 October - 2.9% down on the same period last year.
However, sales leapt 8.1% to $110.2bn, beating analysts' expectations.
Wal-Mart owns the UK's Asda, which reported like-for-like sales up 1.3%, despite fewer car trips by shoppers in the face of high petrol prices.
Unlike its parent company, Asda's results were for the three months to the end of September.
Doug McMillon, president and chief executive of Wal-Mart International, said that during the "heavy promotional period" leading up to Christmas, Asda would maintain its promise to be 10% cheaper than other supermarkets on comparable baskets or refund the difference.
Asda said it opened a record number of 83 Asda stores in the quarter, including 77 conversions of stores formerly belonging to Danish discount retailer Netto. Asda bought Netto's UK stores for £778m in 2010.
Asda now has a total of 542 stores across the UK.
Sales at Wal-Mart's US discount stores open at least a year rose a better-than-expected 1.3% during the third quarter, ending a run of nine consecutive quarterly falls.