Pensions strike: More unions back action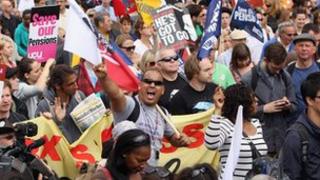 Members of three more trade unions have voted to join the national strike on 30 November against changes to public service pension schemes.
Members of three small unions, representing physiotherapists, radiographers and chiropodists, voted yes with large majorities.
Many other NHS, civil service, local authority and teaching staff have already decided to take part.
They oppose plans to make them work longer and pay more for their pensions.
In the latest ballots, members of:
The Chartered Society of Physiotherapy voted by 86% to 14% to strike, on a 66% turnout of 14,747 members who voted.
The Society of Chiropodists and Podiatrists voted by 85% to 15% to strike, on a 52% turnout of 1,855 members.
The Society of Radiographers voted by 84% to 16% to support the day of action on a 58% turnout of 10,152 members.
On Monday, civil servants in the First Division Association and Prospect both voted by similar majorities to support the national strike, which is being co-ordinated by the TUC.
Members of several other large unions, including the GMB, NASUWT and Unite, will declare their ballot results this week.
If they join in, the strike will be the biggest in the UK since the so-called "winter of discontent" in January 1979.
The Society of Radiographers said it would continue negotiating but added that its members felt they had no choice but to join in.
"If we have to go ahead with industrial action, it is our intention to minimise the effect it will have on patients," said Sue Johnson, president of the Society of Radiographers.
"The form of industrial action by members of the Society of Radiographers will be decided at the local level and discussions will take place with individual employers in the NHS."