UBS appoints Sergio Ermotti as new chief executive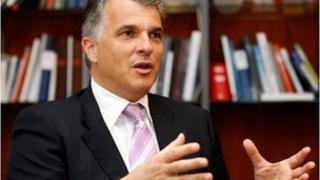 Swiss bank UBS has appointed Sergio Ermotti as its chief executive in the wake of an alleged $2.3bn rogue trading scandal.
Mr Ermotti has been acting chief since September, when Oswald Gruebel stood down after the scandal emerged.
In September, London-based UBS trader Kweku Adoboli was arrested and charged with fraud and false accounting.
UBS also named former Bundesbank president Axel Weber as chairman, replacing Kaspar Villiger.
The bank added that its current board backed the plan to scale back its investment arm and focus on wealth management.
UBS is trying to reassure investors that it has found a new direction after subprime losses and the alleged rogue trading scandal was uncovered.
On Thursday, the bank is expected to outline about 1,500 job losses at an investor meeting.
Mr Ermotti, a former UniCredit and Bank of America Merrill Lynch executive, joined UBS in April and is seen as a safe appointment by analysts.
"The definitive appointment of Sergio Ermotti to CEO and also the departure of Kaspar Villiger should be positively received by investors," said analysts Oliver Forrer and Martin Koch at broker Wegelin in a client note.