Dubai Airshow: How will airlines pay for their planes?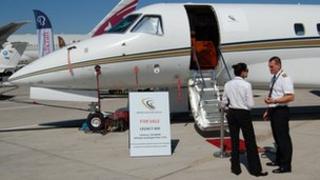 Aircraft sales at the Dubai Airshow amounting to tens of billions of dollars have created an image of an industry in rude health.
But as industry professionals gather for meals and meetings in the exhibition chalets that line the runway at the airport, it is becoming clear that many of them are concerned about how future deals will be financed at a time when even a number of governments around the world are struggling to raise funds.
"The availability of aircraft finance is a big issue," according to Aoife O'Sullivan, partner with aviation law firm Gates and Partners.
"Aviation, rightly or wrongly, is considered a risky investment."
Different problems
A small plane parked at the airshow has a For Sale sign next to its front entrance.
Any potential buyer might well face the same sort of difficulties in raising finance as those felt by much of the rest of the industry, affecting major airlines building their fleets and companies buying executive jets.
The difficulties they face are different in character, however - so much so that it almost makes sense to talk about two different industries.
When financiers consider lending money to airlines, they consider their revenue stream during the lifetime of the planes they are about to purchase, often running into 10 or 20 years.
Corporate buyers are assessed differently, with financiers instead looking at their underlying solidity based on their overall commercial success.
Their ability to honour their debts depends on revenue streams, independent of any economic benefits they might derive from their planes.
Squeeze on funds
A key reason why banks think twice about financing aircraft purchases is that they are facing new, stringent capital requirements.
"Consequently, there's a lot of pressure on all the banks, especially in Europe, to favour safer investments, such as commercial property in London," observes Mrs O'Sullivan.
This has resulted in some banks, most notably the French bank BNP Paribas, dramatically scaling back their activities, she says.
Other banks, such as UBS or Credit Suisse, are still hanging in there, though they remain committed because they want to maintain their relationships with corporate customers, she explains.
But in spite of this, there is a squeeze on the overall availability of funds.
Islamic finance
Here at the Dubai Airshow, there is still a great deal of optimism about the future, however.
This is essentially because of the unique ownership structures of Middle Eastern airlines, such as Emirates, Qatar or Etihad,
"In the Gulf, the governments and the airlines are joined at the hip," says Davy Research transport analyst Stephen Furlong.
Yet even Emirates, which is generally deemed the most profitable airline in the world, is considering alternative financing sources.
"We were kind of planning for finance from European banks… but it's just a bit difficult now," Emirates president Tim Clark told Reuters last week, revealing that the airline was considering raising money from the Islamic finance market instead.
Creative solutions
The world's two leading plane makers, Boeing and Airbus, are also getting more deeply involved in aviation finance, in order to make it easier for their customers to buy their wares and to use it as a strategic tool to drive new deals.
And over the last couple of years, in the wake of the recent credit crunch, various government-backed export credit agencies have been offering loan guarantees.
"The unsung hero, however, has been innovation by leasing companies," according to Paul Sheridan, head of risk advisory at the aviation specialist Ascend.
"With the asset-backed security markets closed and bank markets contracting, leasing companies have been forced to look to other sources for financing."
This has included unsecured borrowing, privately placed secured bonds or finance from countries such as Taiwan or Malaysia, which were not active in the aviation finance markets in the past.
"This is important for airlines, firstly because they look to leasing companies as a vital source of capital, but also because the leasing companies will lead the way in innovating and airlines can learn from them," says Mr Sheridan.
Securing growth
In the executive jet market, banks are sometimes concerned about their ability to repossess their aircraft assets if customers fail to pay - especially in certain jurisdictions such as Ukraine, Russia, China or Saudi Arabia.
To alleviate such concerns, efforts are underway to develop credit insurance structures.
Financiers can also reduce risks by dictating who the operator of the private planes should be.
"Financiers can dictate an awful lot about how the assets are used," says Mrs O'Sullivan.
"From an investor's point of view, it's so much about asset protection."
It is also about maintaining the momentum of the aviation industry.
"Increasing production rates mean that the amount of finance required for new aircraft deliveries will rise by around 40% over the next five years," Mr Sheridan says.
"Thanks to this and the shifting nature of the bank markets, innovation will be essential to keep aircraft deliveries going."