Easyjet profits from business travel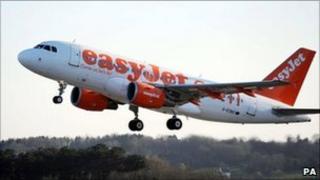 A boost in the number of its business and European travellers helped Easyjet report increased profits for 2011.
The budget airline announced a pre-tax profit of £248m for the year to 30 September, in line with expectations, up from a profit of £154m in 2010.
The improvement was led by a 11.8% increase in passenger numbers, with one million more people using the airline for business travel.
In September, Easyjet announced a £150m special dividend for shareholders.
The special dividend brings the total cash return to shareholders to £195m, or 45.4 pence per share, for the year.
Easyjet chief executive Carolyn McCall said the results were achieved, "despite the headwinds of higher fuel costs and a weak and uncertain economic outlook".
The airline saw a £100m increase in fuel costs during the year, but said it had managed to offset this through efficiency savings.
Despite the downturn in the eurozone, forward bookings for the Christmas period were in line with the previous year - with about 45% of seats now booked.
The airline also improved its punctuality with 79% of flights arriving within 15 minutes of their scheduled time, an improvement on the rate of 66% in 2010.
Easyjet has been in dispute with its founder, Sir Stelios Haji-Ioannou, over the airline's expansions plans.
Sir Stelios and his family own 38% of the shares in Easyjet, but in September he said was planning to set up a new airline called Fastjet.