Coke plans $2bn India investment in bid to boost growth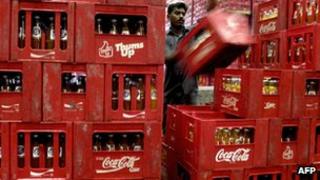 Coca-Cola has said it will invest $2bn (£1.2bn) in India over the next five years in a bid to increase its market share in the country.
Part of the investment will go towards expanding manufacturing capacity and the distribution network to meet increased demand.
The world's largest soft drink company said it expects India to be one of its top five markets by 2020.
The amount is equal to what Coke has invested in India in the past 18 years.
"This investment is a part of our long-term commitment to invest in innovation, partnerships and a portfolio of brands that will enable us to grow our business in a sustainable and responsible way," said Atul Singh, president of Coca-Cola India.
"The country's demographics, economic and social parameters are all huge drivers of growth and we have to ensure that we capitalise on the opportunity," he added.
'Important growth markets'
With robust economic growth in recent years and a more affluent middle class, India is one of the fastest growing consumer markets in the world.
Coca-Cola has also benefited from India's rapid rise, with the company registering double-digit growth in 15 of the last 21 quarters.
Ahmet C. Bozer, Coca-Cola's president, Eurasia and Africa Group, said the company was keen to tap further into India's expanding market.
"India is one of our most important growth markets as we work toward our 2020 vision of doubling system revenues and servings this decade," he said.
"If we continue to do the right things each day and at all times, it would not surprise me if India becomes one of the top five markets for the company globally by the end of this decade," he added.
The company said it will use part of the investment to focus on enhancing the consumer experience and building brand loyalty.