Bank of America to sell China Construction Bank stake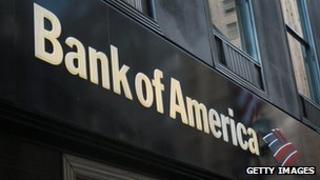 Bank of America (BofA) is planning to further reduce its stake in China Construction Bank (CCB) in a bid to strengthen its capital base.
The second-largest US bank by assets said it will sell 10.4bn CCB shares, most of its remaining stake, for almost $6.6bn (£4.1bn) in cash.
The move comes as BofA faces pressure to boost its capital to comply with new global regulations.
BofA sold a 5% stake in CCB in August for $8.3bn, in a similar move.
"Our decision to sell the bulk of our remaining shares in China Construction Bank is consistent with our stated objective of continuing to build a strong balance sheet," chief financial officer Bruce Thompson said in a statement.
'Significant stress'
BofA started investing in CCB in 2005, as a way to enter the lucrative Chinese market. At its peak in 2008, the US bank held 44.7bn shares, or a 19% stake in the Chinese lender.
However the global financial crisis and a mass of faulty mortgages have seen BofA's balance sheet come under pressure.
New global regulations, known as Basel III, require banks to have a higher capital to assets ratio in their balance sheet.
That has resulted in a change of strategy by the bank's new chief executive, Brian Moynihan, to dispose of non-core assets and streamline the banking operations.
The latest sale of CCB shares is likely to generate a net profit of almost $1.8bn for BofA, a move analysts say should help ease capital concerns.
"This is still a company under significant stress,'" said Gary Townsend of investment firm Hill-Townsend Capital.
"They have a great deal to prove, so they are raising more capital," he added.
Broader sales
BofA's sale comes just days after Goldman Sachs offloaded $1.1bn worth of shares in Industrial and Commercial Bank of China.
It was the third time the investment bank has cut its holding in China's biggest lender.
The sales also come at a time when there have been concerns about the health of China's banking sector.
Chinese banks have lent record sums of money in the past few years, raising concerns about the formation of asset bubbles.
There are fears that a slump in property prices may see the value of assets dwindle and hurt the capacity of consumers to pay back their debts
The fears have been fanned further by concerns of an overall slowdown in the Chinese economy amid an uncertain global economic environment.
However analysts said sales by the US banks were driven by a change in strategy rather than growth fears.
"It is an ongoing thing for many banks around the world. A lot of them are re-strategising their corporate make up," Peter Hoflich of The Asian Banker told the BBC.
"As for China's economy, there is a lot of confidence in the Chinese authorities and their ability to deal with any potential slowdown," he added.