Public sector pensions: Civil servants vote to strike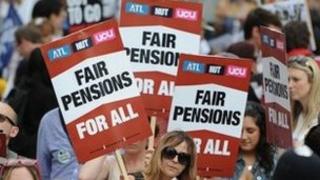 Senior civil servants have voted to join industrial action to protest against changes to public sector pensions.
The FDA union, which represents 18,000 senior staff, said 81% voted in favour of industrial action. The ballot had a turnout of 54% of members.
Prospect, which has 30,000 members in more the 120 government departments, voted three to one for strike action.
Eleven unions have now voted to take industrial action.
They are widely expected to announce strikes on the TUC's day of action on 30 November.
Ten more unions will announce the results of ballots this week.
'Decisive'
Under the proposed government changes to pensions, public service staff will work longer and contribute more for their pensions, the cost of which is being driven up because people are living longer.
Under the current proposals, most staff will see their contribution rates rise in the next three years.
Pension schemes based on average pay over a career are due to come in for most current and all new staff in 2015.
Their future pension ages will be linked to the state pension age, which is expected to rise from 65 to 68.
The FDA's members include tax inspectors, special advisers, government lawyers, crown prosecutors and diplomats.
"This is a decisive vote for industrial action, but this ballot should not have been necessary," said Jonathan Baume, general secretary of the FDA.
"No one has worked harder than the FDA to seek a negotiated settlement, often in the face of government delay and procrastination."
He said that the union had only held a national strike ballot once before.
"The government needs to reflect upon why senior public servants feel driven to vote to strike," Mr Baume said.
'Damaging'
There was a 52% turnout of Prospect members in its vote, in what it described as the first civil service-wide ballot held in more than 30 years.
"Even at this late hour we urge the government to come forward with new, fairer proposals that would avert the need for strike action," said Prospect's deputy general secretary Dai Hudd.
Cabinet Office minister Francis Maude said the government had listened to the concerns of public sector workers about their pensions and had already responded with a new "generous settlement".
"I urge the trade unions to devote their energy to reaching agreement and not to unnecessary and damaging strike action," he said.
"This offer is as good as it gets and I appeal directly to every public servant to visit the Treasury website and consider the generous offer we have made before they take to the streets."