Big changes to tax system planned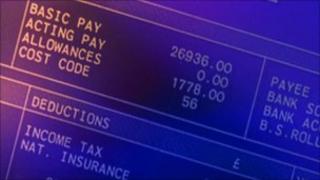 Every taxpayer may be given online access to their tax records, the government has suggested.
The idea is part of a public consultation on making the personal tax system easier to use and understand.
Other ideas include supplying pre-filled tax returns to people in the self-assessment system using information from employers and banks.
All taxpayers may be sent an annual tax statement in addition to their normal P60 form and PAYE tax code notice.
David Gauke, the Exchequer Secretary, said: "At the moment, for a lot of people, the tax line on their pay slip is the only time they see just how much they're paying in tax, but the government doesn't think that's good enough."
"We plan to lift the lid on tax so that people understand how much they are paying, what their overall tax rate is, and what they should be paying, in the same way that the government has lifted the lid on what they are paying for," he added.
Big ideas
Online access to individuals' tax records is a system that already operates in the Irish Republic.
The government wants to know if UK taxpayers would be happy with a similar system here.
It also wants to know if UK taxpayers in the self-assessment system, who account for about 22% of all income tax payers, would like to copy the Danish example, in which some information is already filled in on tax forms when they arrive.
They draw on existing sources of information about incomes, such as employers, banks, pension schemes and letting agencies.
The Danes also send fully pre-filled tax statements to the 90% of taxpayers there who are not in the Danish self-assessment system.
The tax statements lay out where all the tax information has come from and what taxpayers can do if they think any of it is wrong.
Chas Roy-Chowdhury of the Association of Chartered Certified Accountants (ACCA) said the plans were a very good idea.
"It will be a shock to many people to see the National Insurance added onto their income tax contributions," he said.
"There are also a lot of people who do not have internet access, so they need to be given access [to their tax records] by other means."
Long term changes
The possible initiatives are part of a wider move by the government to improve the income tax system.
It is about to pilot a new system for the collection of so-called real time information (RTI), whereby employers will supply updated pay, tax and national insurance (NI) data about their staff to HMRC each month.
This will mean the Revenue will not have to wait until the end of each tax year to work out if a person has paid the right amount of tax or not.
The introduction of a new computer system for income tax and national insurance two years ago revealed that millions of tax records for the past few years had not been reconciled properly.
This has led to several waves of letters being sent to millions of taxpayers giving them a tax rebate for one or more past tax years, or asking them to pay extra tax because they had been under-taxed in the past.
RTI will be piloted from April 2012 and will become mandatory for all employers from October 2013.
In addition, the government is in the process of consulting on a wider plan to merge the separate income tax and NI systems, which would help save some of the £1bn a year that HMRC spends on administering the pay as you earn (PAYE) system.