Italy's UniCredit cutting 5,000 jobs as profits fall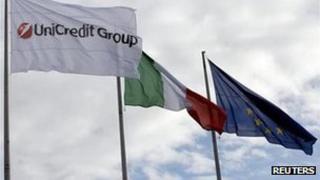 UniCredit is to shed 5,000 staff and is preparing a 7.5bn euro (£6.4bn; $10.2bn) rights issue as the eurozone crisis takes its toll.
The Italian bank reported a 10.6bn euro loss in the three months to September due to writedowns of eurozone debt.
UniCredit holds 38bn euros of Italian government bonds and its shares have halved in value since January.
Its London trading operation will close as part of the cost-cutting plans, with the loss of 150 jobs.
The bank has also scrapped its annual dividend.
The bank, which has 160,000 staff worldwide, needs to raise 9.4bn euros to meet the new cash reserves rules set by the European Banking Authority.
It is also considering selling assets in Eastern European countries where UniCredit is not the market leader.
By strengthening its capital base, reducing investment banking operations and refocusing on core businesses in Italy, Austria, Germany, Poland and Turkey, the bank hopes to ringfence the bank from market volatility and stabilise profit.
The former Libyan regime under Colonel Gaddafi held around 7.5% of Unicredit shares, which are currently frozen by the international sanctions imposed during the country's civil war.