Banks increase lending to companies in third quarter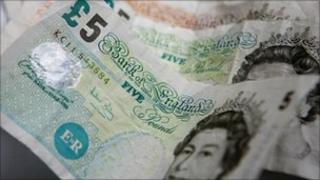 The UK's biggest four banks increased their lending to companies in the third quarter of 2011, official figures show.
There were £57.4bn of new loans from July to September, up from £53bn in the second quarter, the Bank of England said.
However, lending to small and medium-sized firms fell to £18.8bn from £20.5bn between April and June.
Under the Project Merlin agreement, the big four banks have pledged to lend at least £190bn to firms this year.
They need to lend £32.3bn in the final three months of the year to meet the overall target.
To meet the aim of lending £56.1bn to small and medium-sized enterprises (SMEs) this year, the banks need to lend £19.9bn to them between October and December.
'Major concern'
EEF, formerly the Engineering Employers' Federation, gave the latest lending figures a cautious welcome.
Terry Scuoler, EEF chief executive, said: "Today's data shows banks are at least now willing to lend.
"However, the cost of credit and those terms and conditions outside the headline rate remain a major concern, especially for SMEs."
He added: "These critical factors are not addressed by the Merlin agreement and, at a time when confidence is precarious in the face of weak demand in our key markets, we need to be doing all we can to encourage investment to happen now."
John Walker, national chairman of the Federation of Small Businesses, said the banks had "yet again missed the small business target".
He added that the lending targets failed to address the "lack of competition" in the banking sector.
"We need to see a clear change: more competition and new lines of credit opening for small firms if they are to help boost the recovery," said Mr Walker.
The four banks signed up to Project Merlin are Barclays, Lloyds, HSBC and Royal Bank of Scotland, which owns NatWest.
The agreement with the government also included limits on bonuses and improved transparency.