Olympus shares up on hope firm will avoid delisting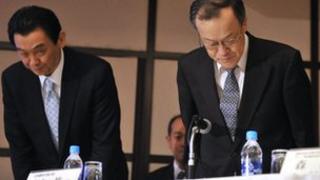 Shares in Olympus rose on Monday as investors speculated about the company's future.
The scandal-hit electronics manufacturer's shares rose 17%, the most the Tokyo stock exchange would allow in one day.
The rise came after unconfirmed reports that the company may avoid having its shares delisted.
Despite Monday's rise the company's shares are down 78% since 13 October, when the scandal emerged.
The Tokyo Stock Exchange (TSE) has put Olympus shares "under supervision" and warned that they could be delisted.
"If any investors are buying today because weekend media reports suggest Olympus might remain listed, that relief is premature and speculative at this point," said Masayoshi Okamoto, head of dealing at Jujiya Securities.
The warning came after Olympus said it would not be able to meet the 14 November deadline to submit its quarterly earnings report.
Earlier this month, Olympus executives admitted to hiding losses from investments over decades.
The company is also being investigated by Japan's financial services authority.
Questionable payments
The scandal first made headlines last month when the former chief executive of Olympus, Michael Woodford, alleged that the company had not properly accounted for large sums paid to financial advisers relating to mergers and acquisitions.
He said he was fired when he questioned these payments.
Olympus first denied any wrongdoing and asked an external panel to investigate.
However, last week, Olympus stunned financial markets by publicly admitting it had used money from these payments to cover up substantial investment losses for decades.
Olympus put the blame on three of its senior executives, including former president Tsuyoshi Kikukawa.