Indian inflation stays higher than expected at 9.73%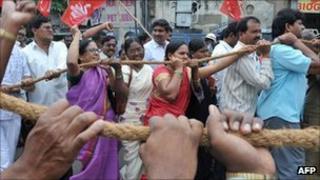 Indian inflation remained high in October, driven by the rising cost of food and fuel.
The wholesale price index rose at an annual rate of 9.73% in October, up slightly on 9.72% in September.
The rise comes despite falls in global fuel and commodity costs, which have failed to feed through to curb rising domestic food and fuel prices.
India's central bank has increased rates 13 times since March 2010 to try to hold back rising prices.
In October, the Reserve Bank of India raised interest rates and cut its growth forecast for Asia's third-largest economy.
The RBI's main repurchase rate now stands at 8.5%.
However, the bank has suggested that it may not increase the cost of borrowing further because of falling growth.
The rise in inflation was a surprise to analysts, who had expected a slight fall.
Rising prices have been driven by falls in the rupee, which is at its lowest level against the dollar for over two years.
This in turn pushes up the cost of imported goods, such as oil.
Fuel price inflation stood at 14.79% and food inflation at 11.06%.