Majestic Wine toasts 20% rise in half-year profits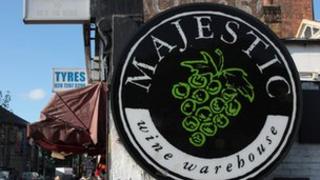 Majestic Wine is toasting a 20% rise in half-year profits, helped by customers buying more expensive bottles.
The company made a pre-tax profit of £8.8m in the year to 26 September, compared with £7.3m a year earlier.
Its like-for-like sales, which pulls out the impact of new store openings, rose 2.7%. Majestic's half-year revenues increased 9% to £127.8m.
The company said that sales of still wines costing £20 or more per bottle rose by one-fifth from a year ago.
Majestic chief executive Steve Lewis said the company was "very well prepared for the important Christmas trading period".
Online boost
During the six months to 26 September, Majestic opened eight new stores. Since then, it has launched a further three, bringing its total number of shops up to 174.
It has also increased the number of its outlets that sell expensive "fine wines" to 122 from 96 a year earlier.
Its online sales during the half-year rose 9% and now represent 9% of its total UK sales.
Visitors to Majestic's shops have to buy a minimum of six bottles of wine or spirits. Shoppers using its website have to purchase at least 12 bottles.