Libya oil output to return to pre-war levels next year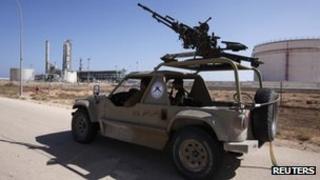 Libya expects to return crude oil output to pre-war levels of around 1.6m barrels per day (bpd) by the end of 2012, the head of the country's National Oil Corporation has said.
Nuri Berouin said output has arisen to 600,000 bpd, and expects to add another 200,000 a day by the end of 2011.
He said that repairs to the oil sector's infrastructure will cost "hundreds of millions of dollars".
Mr Berouin was speaking at an economic forum of gas exporters, held in Qatar.
"Our production has reached 600,000 bpd of which 140,000 bpd go to (local) refineries," said Berouin, with the remaining 460,000 bpd for export.
The uprising in Libya virtually shut the country's oil industry, and exports only resumed in September.
Last week, the Paris-based International Energy Agency said that production in Libya was resuming faster than had been expected after a key pipeline was repaired.
It is estimated that more than 10% of the [Organisation of Petrolium Exporting Countries] Opec member's oil infrastructure was severely damaged during the eight-month rebellion.