The critical cost of uninsurance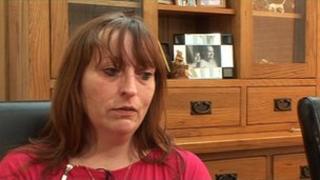 Cancelling vital insurance to save money could prove a tragic false economy, consumers are being warned.
Serious illnesses such as cancer or heart attack hit one in four women and one in five men before retirement age.
But nearly two thirds of the population has not bought any form of protection to cover the cost of their families' lives.
Sue Mitcheson, from Hawkinge in Kent, knows all too well what it means to be uninsured.
Her husband Ian was diagnosed with terminal prostate cancer three years ago and he was advised to give up his job immediately.
Sue became his full-time carer.
Without any payment protection cover or critical illness insurance, Ian and Sue, both 45, had to fall back on savings to pay the mortgage and other bills.
When that ran out, they soon fell into arrears.
Sue says at the time, they had decided to put the financial needs of Ian's growing business ahead of taking out protection insurance.
"We looked into insurance, I remember critical illness cover being about £100 a month and £80 a month so we thought, we'll wait a bit, we'll build the business up & then we'll look at insurance," she says.
"By then it was too late," Sue adds.
Repossession
The Mitchesons' lender has increased their monthly repayments, threatening to repossess the house if they do not meet the repayment plan.
"We have no savings left. We are relying on benefits. I don't know where we're going to find the extra money," Sue says.
"Next week Ian's coming back from the hospice to die at home. I'm going to be grieving and I'm going to have to give up the house that I love and where Ian is and always will be", she adds.
Medical advances mean those below retirement age are now five times more likely to survive a serious illness than to die from it, according to the Office for National Statistics (ONS).
Although most mortgage providers urge customers to take out life assurance to cover the death of a policyholder, the take up of insurance for those forced out of work by serious illness is far lower.
Perversely, this can lead to a situation where the family is financially better off if a relative dies than if they recover.
Financial squeeze
The British Insurance Brokers' Association (BIBA) says the number of brokers' seeing their clients scale back on personal insurance has more than doubled in a year.
Alan Lakey, partner at Highclere Financial Services, urges customers to protect their future.
"Nine of out ten critical illness policies include life assurance," he urges.
"People are being put off from taking out insurance policies because they have no confidence in the economic situation.
"The cost of protecting your family from the worst could easily start at £20 or £30 per month for a young couple or £40 per month for an older couple," he adds.
Premiums vary depending on the sum insured, your age and the state of your health.
Critical illness cover explained
Critical illness insurance pays out a lump sum on the diagnosis of a critical illness.
All policies should cover seven core conditions.
These are cancer, coronary artery bypass, heart attack, kidney failure, major organ transplant, multiple sclerosis and stroke.
Policies will also pay out if a policyholder becomes permanently disabled as a result of injury or illness.
But not all conditions are necessarily covered.
Earlier this year the Association of British Insurers (ABI) introduced a set of best practice guidelines.
The new rules include clarification on when policies will pay out if a claimant suffers "total permanent disability".
All policies automatically include reduced cover for children but the new rules spell out when it will not apply - for example, if the condition was present at birth.
Complications
There are more than 60 providers offering 200 versions of critical illness insurance.
Choosing which policy is most appropriate is much easier said than done, according to James Daley, Money Editor at the consumers association Which?
"Critical illness policies have become more complicated these days," he said.
"There's no guarantee that you'll get a pay out from your critical illness policy if you are diagnosed with cancer, for example.
"It has to be the right sort cancer and I think that's something that most people find baffling," he points out.