Former policeman jailed for £330m VAT fraud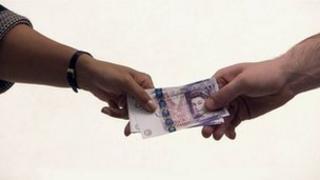 A former policeman has been sent to jail for organising a huge VAT fraud involving bogus sales of mobile phones.
Nigel Cranswick, from Dinnington in South Yorkshire, was sentenced to 10 years and three months for his part in trying to defraud HM Revenue & Customs of £330m in VAT refunds.
He and five others used fake paperwork to invent sales of six million phones worth £2.4bn in eight months.
The judge said the fraud against the HMRC had been "unprecedented".
His Honour Judge Brian Forster QC told Newcastle Crown Court that "the figures in this case are astonishing and reveal a blatant nature of the fraud".
"They persisted in dishonest trading, despite numerous warnings from HMRC," he added.
The fraud was just one of a large number of so-called "carousel" VAT frauds that plagued the tax authorities in the last decade.
How it worked
While still a serving policeman, Cranswick set up a company called Ideas 2 Go, which generated a huge paper trail of seemingly legitimate imports, sales and then re-exports of mobile phones.
The tax rules meant that traders who genuinely imported and exported goods between EU countries did not have to pay VAT.
However, this let fraudsters milk the system by reclaiming the VAT on goods which they continuously imported and exported to and from other European Union nations.
With the same goods being sent round and round across numerous EU borders, the system became known as "carousel" fraud.
And, as in the case of Cranswick's gang, these frauds escalated, so that they sometimes took place without any physical trade at all.
He simply invented more than 6,000 fake transactions to back up the refund claims submitted to the Revenue.
"Using details from hijacked or fictitious companies, the gang produced thousands of invoices for sales of mobile phones and computer software, producing billions of pounds in fabricated turnover, which generated around £330m in fraudulent VAT repayments," the Revenue said.
In 2006, the government changed the VAT rules applying to mobile phones and computer chips and successfully cut the extent of this fraud.
The Revenue said that Cranswick had gone from "rags to riches" in just a few weeks, left his job as a policeman and started living an extravagant lifestyle.
He made "lavish improvements to his home, rented a luxury apartment in the Spanish town of Marbella and paid for private schooling and tennis lessons for his children", HMRC said.
The other people convicted were Cranswick's sister, Clare, her husband Darren Smyth, both from Maltby, Brian Olive from Doncaster, Thomas Murphy from Dinnington and Andrew Marsh from Sheffield.