Electric car charge-point database to be set up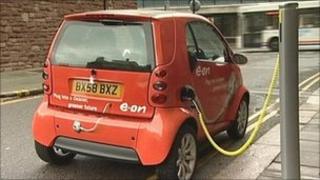 A database of where to find charging points for battery powered cars is being set up by the UK government.
All-electric cars on sale in the UK have a range not much greater than 100 miles, which means long journeys require careful planning.
Currently, however, there is no centralised official record of where all the charge points are.
One website, next greencar, has mapped at least 1,700 charging points in more than 700 locations in the UK.
But the Department for Transport estimates that the actual figure is closer to 2,500.
Transport Minister Norman Baker said the database would help motorists to reach their destination.
The registry will be developed by POD Point, which makes charging posts and runs its own charging-point network.
POD Point is one of several companies offering recharging posts equipped with special sockets in parking bays.
In an effort to make moving between providers simpler, the DfT has commissioned POD Point to develop a system, the Central Whitelist, to store membership information from different recharging schemes.
The aim is to let battery-powered car owners use charge points across the country without having to sign up to new providers each time.
Although their running costs are low, all-electric cars are relatively expensive to buy and the government offers a grant of 25% towards the cost of the vehicle, up to a maximum of £5,000.
Growing popularity
There are thought to be at least 2,000 battery-powered cars in the UK.
The Society of Motor Manufacturers and Traders (SMMT) says that more than 1,021 vehicles have been registered so far this year alone.
Although more people are buying electric-cars, hybrids (which have batteries recharged by a conventional engine) remain the most popular low-emission vehicles.
More than 18,000 hybrids have been registered in the UK so far this year, although that is out of a total of about 1.7 million cars sold, according to SMMT figures.
Mr Baker said: "We know there is public appetite out there for plug-in vehicles, and as a government we are doing everything possible to make them a real option for both motorists and industry."
The DfT estimates that there will be 10,000 charge points in the UK by 2013, with 8,500 provided by the government's £30m Plugged-In Places scheme.
This scheme focuses on eight areas across the country: London, Milton Keynes, north-east England, the Midlands, Greater Manchester, the East of England, Scotland and Northern Ireland.
Both the registry of charging points and the Central Whitelist of membership schemes are due to come into operation early next year.