Online tax return system praised by Audit Office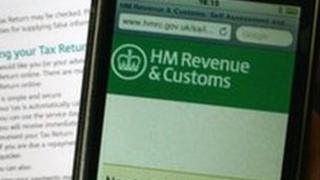 Pushing people to file tax returns online has been a real achievement but it is unclear whether it provides value for money, a report says.
More than 11.5 million customers a year have submitted returns online, the National Audit Office (NAO) said.
However, the report noted some dissatisfaction among users about access to the website.
A pressure group has called for the UK tax authority to offer other options for those not on the internet.
Comparison problems
The move to online filing cut the cost of processing, storage, stationery and postal costs, the NAO report said.
Cumulative savings from online filing have been revised down, from £220m by 2011-2012 to £190m, but the online drive had been on time and on budget.
HM Revenue and Customs (HMRC) estimates that expanding online filing has delivered £126m in savings so far.
But the report said that the tax authority was unable to compare the costs of online filing with paper filing.
"For these reasons it is not possible to conclude whether benefits are being maximised and value for money has been achieved," the report said.
The report added that there had been complaints about receiving log-in details and gaining access to the self-assessment website at the busiest times.
The Low Incomes Tax Reform Group (LITRG) has called for HMRC to continue offering a choice to taxpayers.
"There should be no statutory requirement that people must deal with HMRC by digital means, and there must be robust, well-advertised alternatives for those who find it impossible or difficult to transact online," said Robin Williamson, of LITRG.
"Encouraging businesses to move to digital channels as the default option for filing tax returns and communicating with HMRC is reasonable and sensible. But, as ministers have acknowledged, they cannot leave behind those without internet access or capability."
Some professional bodies have also raised questions about the cost and usability of filing VAT and corporation tax returns online.