O2 owner Telefonica reports loss after redundancy costs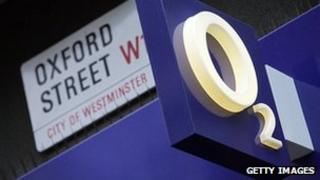 Spanish telecoms group Telefonica, which also owns the O2 mobile network, has reported its first quarterly loss in nine years after being hit by hefty redundancy costs.
The firm lost 429m euros (£365m) in the three months to the end of September.
However, the loss came after Telefonica took a 2.7bn euro charge for an agreement with Spanish unions to lay off 6,500 workers over three years.
In the same period last year Telefonica made profits of 5.1bn euros.
Telefonica UK has 23 million customers using the O2 brand, and its UK customer base increased by 1.6% compared with the same period last year.
The firm said it had "re-gained commercial momentum" in the UK after introducing new smartphone tariffs at the end of August.
Telefonica also operates in the Irish Republic, Germany, Slovakia and the Czech Republic as well as its core domestic market in Spain.
However, it said it had started losing customers in Spain and the Irish Republic.