Spain's economy records zero growth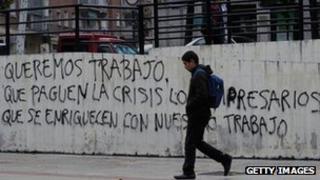 Spain's economy registered zero growth in the third quarter of the year, latest official statistics indicate.
Output between July and September was unchanged compared with the previous three months, and up just 0.8% from a year earlier.
It follows a negligible growth of 0.2% in the previous quarter.
Domestic spending continued to contract, the Spanish statistics office said, although this was offset by a rise in export demand.
Although in recent weeks it has been overshadowed by Italy, international financial markets continue to express concern over the Spanish government's ability to meet its debt payments in the face of a weak economy.
The government faces a 22% unemployment rate, meaning lower income tax revenues and more benefit payouts.
Spanish borrowing costs have risen sharply in the last two months. The implied cost to the government of borrowing for 10 years peaked at 5.9% on Thursday, up from 5% in early October, although it fell back slightly in early Friday trading.