Hornby boosted by strong sales in Europe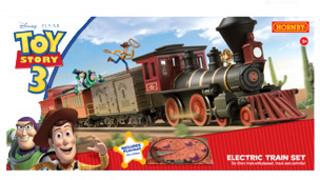 Modelmaker Hornby has said sales in Europe over the past six months rose 50% compared with the year earlier.
The firm - which makes model railways, Scalextric car racing kits and Airfix models - said the rise helped pre-tax profits increase by 80% to £959,000.
The result was also helped by a 4% rise in sales in its core UK market
Hornby said its major suppliers in China had improved their performance, and it had made good progress in cracking the key German market.
"We are particularly pleased with the progress, albeit from a low base, that we have made in Germany," the firm said.
"Germany is by far the largest and most discerning model railway market in Europe."
While demand in the UK remained solid, Hornby said that UK retailers remained cautious about placing new orders.
The company is expecting a stronger Christmas period this year, thanks to its new Toy Story product range, and after sales last year were affected by poor weather.
The firm said work on a new Star Wars-themed Scalextric set was at an advanced stage.