Allianz profits slide on Greece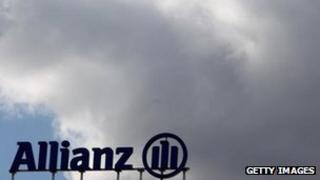 Profits at Allianz fell 80% in the third quarter, thanks to losses on Greek debts and other investments.
The German insurer racked up just 258m euros (£221m; $352m) in the three months, down from 1.27bn a year ago.
The Munich-based firm lost 939m euros as the value of bank shares and its other investments has been hit by the continuing eurozone debt crisis.
Of that loss, some 122m euros was due to the partial write-off of the value of Greek bonds that the company owns.
The results were well short of the 500m-800m euro profit expected by market analysts.
Despite the poor performance, Allianz reaffirmed its full-year operating profit target of 7.5bn-8.5bn euros.
"All market participants are confronted at this time with the uncertainty and large swings on capital markets," said Oliver Baete, the insurer's head of risk control.
Results earlier in the year were hurt by major payouts related to the Japanese earthquake and tsunami.
Despite the underwhelming result, Allianz's shares rallied 2% in early trading in Frankfurt on Friday.