South Korea's household debt rises as rates on hold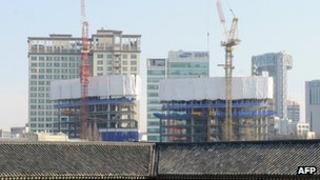 South Korea's household debt rose 12.7% in the year to 31 March, figures have shown, raising fresh concerns about its impact on economic growth.
Household debt averaged 52m won ($46,287; £29,053), compared with 46m won at the end of February 2010.
Households have increased their borrowing over the past few years in a bid to invest in the property sector.
However, stagnation in property values has raised concerns that prices may be unsustainable.
The fear is that if property prices drop sharply, many may find it difficult to pay back their mortgages, which would have a big impact on South Korea's economic growth.
South Korea's statistical bureau said that mortgage loans increased 12.3% during the period, while credit loans surged 22%.
'Downside risks'
Meanwhile, the Bank of Korea left its key interest rate unchanged at 3.25% for the fifth straight month as the eurozone debt crisis continued to worry policymakers.
Asia's fourth-largest economy relies heavily on exports for its growth and the eurozone is one of the biggest markets for its goods.
There are fears the crisis will hit growth in the eurozone and dent demand for Asian exports.
"External downside risks have widened and become official," said Sun Yoo of Woori Investment & Securities.
Mr Sun added that the Korean central bank may even cut interest rates going forward to ensure a healthy pace of growth.
"It is possible to see some change in the monetary policy direction, as it is hard to predict the situation in the eurozone," he said.