Geithner urges Asia-Pacific economies to spur growth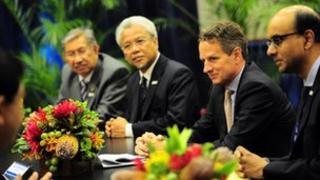 US Treasury Secretary Timothy Geithner has urged Asia-Pacific countries to increase efforts to restore growth to the global economy.
He was addressing finance ministers from the 21 countries that are members of the Asia-Pacific Economic Co-operation (Apec) group.
Mr Geithner also pressed Europe to put in place a "strong plan" to resolve its debt crisis.
The comments come ahead of a summit of Apec leaders in Hawaii.
"We are all directly affected by the crisis in Europe," said Mr Geithner.
"But the economies gathered here are in a better position than most to take steps to strengthen growth in the face of these pressures from Europe."
Domestic demand
Many countries within the Apec grouping, such as China and Indonesia, have experienced rapid economic growth, while the US and Europe have seen growth slow.
Mr Geithner said it was to their advantage to become more consumption driven, and less dependent on developed economies.
"As the US continues to work through the problems that caused our crisis, and Europe confronts periods of slower growth, Asian economies will need to do more to stimulate domestic-demand growth," he said.
This would make them "less vulnerable to slowdowns", he added.
Regional trade
The US has been pushing to boost its trading relationships with countries in the Pacific region.
The summit in Hawaii, which will be hosted by US President Barack Obama, is seen as an opportunity for it to garner support for its Trans-Pacific Partnership (TPP), a free-trade pact.
A handful of smaller economies have agreed to take part, and Japan's prime minister, Yoshihiko Noda, is considering joining.
Japan is the world's third biggest economy, and its participation would be a major boost to the pact.