Theme park spending boosts Disney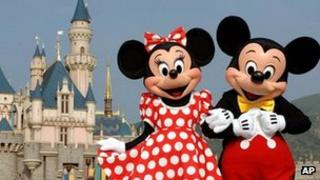 Walt Disney has reported a big rise in quarterly profits thanks to increased spending by visitors to its theme parks.
Net income for the three months to the end of September came in at $1.09bn (£684m), up 30% from the same period last year.
Income from theme parks rose 33%, while income from its media networks, which include ABC and ESPN, grew 20%.
For the full year, net income rose 21% from a year earlier to $4.8bn.
Walt Disney shares were the second biggest risers on the Dow Jones index on Thursday, rising 2.5% before the results were released. They rose another 2.5% in after-hours trading.
It was a relatively disappointing year for the studio entertainment segment of the business, which reported an 11% fall in annual income.
The decline was blamed on this year's films such as Cars 2 and the fourth Pirates of the Caribbean film not doing as well as last year's films such as Toy Story 3 and Princess and the Frog.
Disney said the increased spending per visitor to its theme parks reflected higher prices for tickets, hotels, food and merchandise.