Eurozone crisis may affect mortgages, brokers say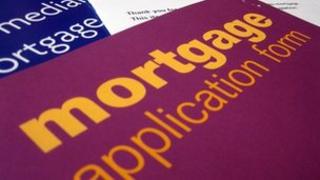 Mortgage rates could start to rise again as a result of the turmoil in the eurozone, brokers are warning.
Some lenders, including Woolwich, Halifax and Santander, have pushed up their tracker rates for new borrowers.
This increase follows a rise in the rate at which banks lend to each other - Libor - which has been inching higher amid worries over the eurozone crisis.
The increase in Libor indicates that banks are less confident about lending to each other.
"It is a diluted version of what happened after the Lehman crisis," said David Hollingworth, from mortgage brokers London and Country.
"We could be seeing a significant reversal in rates. Over the summer mortgage lenders were competing harder with each other. Now that is changing."
'Edging up'
Although the average tracker rate has hardly altered since the summer, there are straws in the wind which suggest that the direction could be shifting from down to up.
On Wednesday, the Chelsea Building Society put up the cost of some of its most competitive tracker mortgages by 0.2%.
In recent weeks, the Halifax raised its two-year tracker by 0.15% to 3.34%, while Woolwich increased the rate its trackers revert to after two years by 0.4%.
Santander pushed up its Abbey-branded lifetime tracker in two moves from 2.95% to 3.09%. Nationwide and ING have also raised some rates as well.
"Several lenders are edging up trackers," said Ray Boulger, of mortgage broker John Charcol.
What happened next "depends on how fast the euro crisis develops", he said.
Cost of funds
One indication of the pressure on lenders comes from Libor - the London Interbank Offered Rate - the short-term interest rate at which banks will provide funds to each other.
While some lenders draw mostly on their customers' savings to fund mortgages, others have to borrow large amounts on the money markets, hence the importance of rates such as Libor.
Since August, three month sterling Libor has risen from 0.83% to 1%.
This is a significant change compared with the Bank of England's key rate, which has been stuck firmly at 0.5% since March 2009. On Thursday, the Bank said it would keep rates on hold again following the latest meeting of the Monetary Policy Committee.
"Libor is important because it shows the cost of funds," Mr Boulger said.
"But the other question is what funds are available."
His concern is that as the eurozone crisis gets worse, the supply of mortgages in the UK will start to shrink again. That could have a serious effect on the housing market.
Mr Hollingworth. said: "The rise in Libor is a consequence of the eurozone's problems and the growing anxiety about funds being available to banks.
"It does not mean that people looking for mortgages will have to pay thousands of pounds more, but those borrowers expecting rates to fall will have to rethink."