UK interest rates remain on hold at record low of 0.5%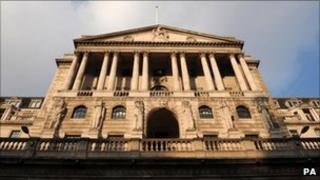 UK interest rates have been held at a record low of 0.5% by the Bank of England's Monetary Policy Committee.
Worries about the strength of the economic recovery meant that economists had expected rates to remain unchanged.
Interest rates have been kept at 0.5% since March 2009.
The Bank did not announce any increase in its policy of quantitative easing (QE). Last month, the Bank said it would inject another £75bn into the economy through QE.
Lee Hopley, chief economist at EEF manufacturers' organisation, said: "There were unlikely to be any further announcements this month following last month's decision to extend the Bank's asset purchase programme.
"However, ahead of the November inflation report the committee is likely to be looking at a much weaker set of growth forecasts, where the potential risks to the economy have increased significantly.
"With growing turbulence in Europe, the possibility of further action can't be taken off the table," she said.
The new inflation and growth forecasts will be published by the Bank on Wednesday. Minutes from this week's MPC meeting will be published on 23 November.
The Bank had already pumped £200bn into the economy with asset purchases between March 2009 and February 2010.
In a statement, the MPC said that its latest QE programme would take another three months to complete. "The scale of the programme will be kept under review," the MPC said.
Ian McCafferty, chief economic adviser at the CBI employers' group, said: "With the situation in the euro area ever more severe, the MPC will be waiting to see how events develop.
"Having announced an extension of QE last month, it's not surprising that policy has been left unchanged.
"Although growth is expected to almost stall over the winter, the CBI's latest forecast suggests that a double dip can be avoided."
Last month, Bank governor Mervyn King said the financial crisis could be the worst the UK had ever seen.