Trinity Mirror gets Sunday boost after NoTW closure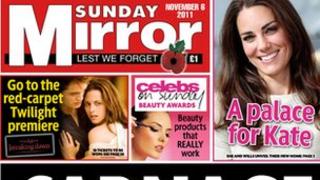 Newspaper group Trinity Mirror says its 2011 revenues will be boosted by sales of its Sunday papers after the closure of the News of the World.
The publisher of the Daily Mirror and Sunday Mirror tabloids said its revenue in the 17 weeks to 30 October was in line with the same period in 2010.
It added that the decline in advertising revenues had slowed.
The group reported 7% year-on-year growth in total circulation revenue and 6% growth in other areas.
Strong cashflow has also helped to reduce net debt by £20m to £242m, with further falls expected for the remainder of 2011.
Circulation up
The company has more than 150 national and regional papers across the UK.
Advertising sales across its national newspapers fell 10% in the quarter, compared with a drop 15% in the first half of the year.
Circulation at its national titles increased by 10% overall, with big increases seen at its Sunday papers. The Sunday Mirror saw volume gains of 61%, while circulation at the People was up 58%.
The group's Sunday titles have been trying to plug the gap left by the News of the World, which closed in July following the scandal over phone-hacking by reporters.
The group said: "While we expect the trading environment to remain difficult, the board anticipates that the benefit of management initiatives will continue to help offset the effects of the challenging environment.
"The board expects increased circulation volumes and revenues of our Sunday titles will help deliver performance marginally ahead of the top end of the current range of market expectations in 2011."