Credit Agricole profits fall on Greek debt charges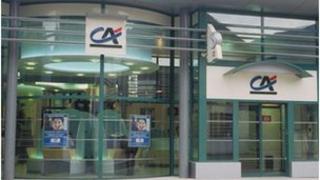 French bank Credit Agricole has reported a 65% drop in third-quarter profits after being hit by losses on Greek sovereign debt.
It said net profit in the three months to September 30 fell to 258m euros ($351m; £220m) from 742m euros in the same period last year.
The French bank wrote down its exposure to Greek government debt by 60%, taking a 637m euro charge.
Revenue rose 6.2% to 5.29bn euros from 4.98bn euros a year ago.
Its figures were lifted by the bank's French and international retail banks, but its corporate and investment banking business had a weak quarter.
Short-selling ban
French banks have the largest international exposure to Italy, according to Bank for International Settlements data from the end of June.
Credit Agricole is 55%-owned by 39 French co-operative regional banks, and in turn owns 25% of these lenders.
Its assets include investment banking activities, an insurance unit, the LCL retail bank in France as well as retail banks in Italy and Greece.
On Thursday, the French government said it had extended a short-selling ban on bank stocks including Credit Agricole.