Anglo American sells stake in Chile mining operations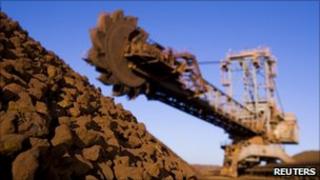 Mining giant Anglo American says it has sold a 24.5% stake in its operations in southern Chile to Japan's Mitsubishi for $5.39bn (£3.38bn).
But the deal could hit trouble after Chile's state copper miner Codelco said it would exercise an option to buy 49% of the business, Anglo American Sur.
Anglo's sale of the stake to Mitsubishi means Codelco might not be able to buy more than 24.5% of the operation.
Anglo American said it had made a "thorough assessment" of the sale.
Anglo's properties in southern Chile include the flagship Los Bronces project, El Soldado mine, the Chagres smelter and Los Sulfatos and San Enrique Monolito exploration projects.
Anglo has invested about $2.8bn to develop Los Bronces.
The company said in a statement: "Anglo American has regularly reviewed its available alternatives and, following a thorough assessment, and in the interests of its shareholders, it entered into a process to explore the potential value of the Anglo American Sur (AAS) assets."
Anglo chief executive Cynthia Carroll added: "We are free to sell any percentage of our shares in AAS at any time. We evaluated and continue to evaluate various alternatives."
But Codelco said it was ready to fight to exercise what it believed was an option to buy almost 50% of AAS.
"If this sale (to Mitsubishi) is confirmed, it does not affect Codelco's right over 49% of the shares of Anglo American Sur," Codelco said in a statement.
"Codelco will exercise all the actions that are necessary to safeguard its rights."