Deutsche Telekom profits boosted by cost-cutting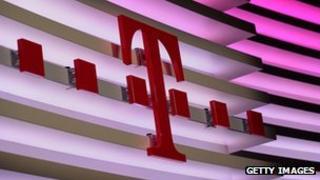 Deutsche Telekom, Europe's largest telecommunications company, has reported a rise in profits helped by cost-cutting measures in Germany.
The company's net profits rose 14% to 1.1bn euros ($1.5bn; £940m) for the three months to the end of September.
Deutsche said that Greek telecoms firm OTE, in which it owns a 40% stake, saw net profit fall 17%.
This was offset by a strong growth in revenue from mobile internet surfing by smartphone users in Germany and the US.
Smartphones accounted for 61% of all phones sold in Germany this year and smartphone sales grew by 40% in the US.
"We have once again demonstrated that we can stand our ground in a difficult environment," said Rene Obermann, Deutsche Telekom's chief executive.
Analysts were encouraged by the results.
"A solid set of figures. Greece saw no write-downs which might surprise, as well," said analyst Adrian Pehl at Equinet Bank.