Cisco turnaround boosts sales, says boss John Chambers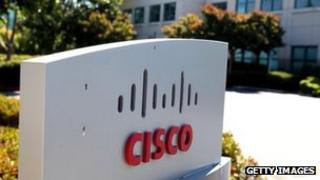 Technology giant Cisco, the world's largest maker of networking equipment, has said its latest sales figures support its claims that cost-cutting plans are starting to bear fruit.
Cisco made 6,500 job cuts in July and axed its Flip Video business, which it bought less than two years previously.
Sales rose 5% to $11.3bn (£7bn) for the three months to the end of September.
Net profits fell 8% to $1.8bn (£1.1bn) in the same period, but shares rose in New York on the news.
Turnaround hope
"We've completed the majority of our restructuring and have organised Cisco to successfully execute against our strategy," said chief executive John Chambers in a statement.
Analysts are positive about signs of success.
"It looks like things are slightly better in almost every important place," said Tal Liani of Bank of America/Merrill Lynch.
Cisco is seen as a bellwether in the US market, reflecting the health of companies as it dominates the market for the technology behind corporate IT networks.