Halfords profits fall as motorists cut back spending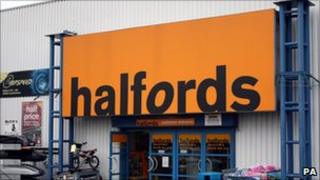 Car parts retailer Halfords has reported a 20.4% fall in half-year pre-tax profits to £54.7m as cash-strapped motorists cut back on maintenance.
Revenue fell 0.5% to £454m in the six months to 30 September.
Bicycle sales continued to grow, but high fuel and insurance costs had eaten into what motorists were prepared to spend on their cars, Halfords said.
"It is impossible to predict when trading conditions will ease," said chief executive David Wild.
Halfords, which has 466 stores and 246 Autocentres in the UK and Irish Republic, has seen its shares fall about 20% in the past year on concerns that consumers are reining in spending.
However, the shares were 2% up in early trading on Thursday.
Mr Wild insisted that Halfords was on track.
"In a challenging market Halfords has delivered a robust sales performance in the first half," he said, emphasising the company's "strong balance sheet and cash generation".
But he added: "Motorists continue to be affected by inflationary rises is fuel and insurance costs, so their spending on maintenance has been subdued."