Airbus owner EADS reports profits fall and A350 delays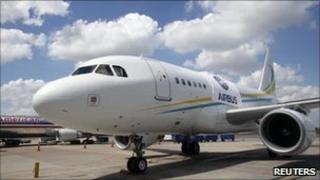 Airbus owner EADS has reported a 15% drop in third quarter operating profits to 322m euros ($435m; £274m) and says its A350 jet will be delayed.
The European aerospace giant also reported a 4% fall in revenues for the quarter to 10.75bn euros.
EADS said it had taken a charge of 200m euros to cover production and delivery delays in its A350 long-range jet.
Airbus said it was abandoning production of its A340 jet, which had competed with Boeing's 777 airliner.
Finance director Peter Ring said: "We have accepted reality. We have not sold any A340s for nearly two years."
Forecasts raised
Final assembly of the A350 will start in the first quarter of 2012. The lightweight composite plane will now enter service in the first half of 2014, up to six months late.
Meanwhile, EADS raised its full-year order forecast for Airbus by 50% to 1,500 aircraft, and said it expected 2011 operating profit to be 1.45bn euros.
EADS' net profit in the third quarter was 312m euros, up from 13m euros a year earlier.
It also said that Airbus had delivered 376 aircraft during the first nine months of 2011. The company expects to deliver between 520 and 530 aircraft in total this year.