Olympus warned of possible share delisting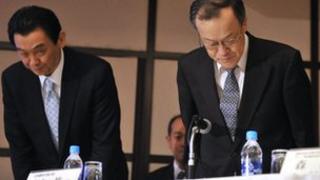 The Tokyo Stock Exchange (TSE) has put Olympus shares "under supervision" and warned that they could be delisted.
The move came as Olympus said it would not be able to meet the 14 November deadline to submit its quarterly earnings report.
Earlier this week, Olympus executives admitted to hiding losses from investments over decades.
Shares in the camera maker have lost almost two-thirds of their value since 14 October.
"If the company does not submit the quarterly report within one month of the statutory submission deadline (up to 14 December, 2011), stocks of the company shall be delisted," the exchange said in a statement.
At the same time, Tokyo metropolitan police launched an investigation into Olympus for the possible violation of financial laws, according to the Yomiuri and Nikkei newspapers.
Olympus would not comment on the reports when contacted by the BBC.
On Thursday, its shares were not trading when markets opened because of a glut of sell orders. The shares ended the day down by their daily limit to 484 yen, a decline of 17%.
Questionable payments
The scandal first made headlines last month, when the former chief executive of Olympus, Michael Woodford, alleged that the company had not properly accounted for large sums paid to financial advisers related to mergers and acquisitions.
He said he was fired when he questioned these payments.
Olympus first denied any wrongdoing and asked an external panel to investigate.
However, on Tuesday, Olympus stunned financial markets by publicly admitting it had used money from these payments to cover up substantial investment losses for decades.
Olympus put the blame on three of its senior executives, including former president Tsuyoshi Kikukawa.
Since then, Olympus shares dropped sharply, shedding 20% on Wednesday and 30% the day before.
Board reshuffle
Earlier on Thursday, attention was back on Mr Woodford as foreign shareholders in Olympus asked for him to be reinstated.
UK fund manager Baillie Gifford, which holds 4% of Olympus shares, said: "What Olympus needs now is a thorough clean-up and we believe Michael Woodford is the best man for the job".
"We expect all directors or employees linked to this wrongdoing to be dismissed and have their ties to the company severed," said the firm's Elaine Morrison.
Olympus' largest foreign shareholder, Southeastern Asset management, has also called for the sweeping out of all the remaining directors and the company's internal audit board.
Southeastern owns about 5% of the firm.