Japanese giant Rakuten buys Kobo ebook business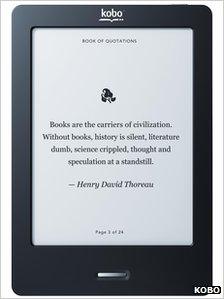 Japan's biggest internet retailer is taking over the ebook firm Kobo.
Rakuten already sells another digital reader in Japan: the Raboo, which is made by Panasonic.
The $315m (£198m) acquisition is designed to help it become one of the biggest players in the ebook industry.
The company also hopes to use Kobo and its popular book-themed social network to expand its other services. Rakuten operates travel, banking, e-commerce, sports and media divisions.
"We feel that an ebook reader will ultimately not be only about selling books," Rakuten executive Pierre Kosciusko-Morizet told the BBC.
"It's about potentially selling other digital goods and it's also about being in consumers' homes with a hardware device."
Kobo's upcoming Vox reader is a seven-inch colour Android tablet. That offers its new owner an opportunity to sell other forms of media, setting it up as a rival to Amazon's Kindle Fire.
It can also run Kobo's book-based social network, which can be used to build brand loyalty.
"Definitely the ebook market is not just for ebooks, it probably means going towards other stuff" said Mr Kosciusko-Morizet.
"We think the price battle is going to be quite strong and so it's even more important to be strong in that battle."
Rakuten has also bought three European online retailers over the past two years: The British store Play.com, France's Price Minister and Germany's Tradoria.
That potentially puts it into conflict with two high street chains that sell Kobo's devices - the UK's WH Smith and France's Fnac.
However, Rakuten believes its relationship with these companies will not change.
"We feel that being only online makes it difficult to be a big player in the market, and moreover it is probably a market where you need to be one of the top three or two players," said Mr Kosciusko-Morizet.
In return for in-store sales of its devices, Rakuten will continue to share locally-generated revenues from its online book sales.
"The sale of Kobo has no impact on our partnership. The increased investment and global scale will only improve our overall offering," said a spokeswoman for WH Smith.
Related Internet Links
The BBC is not responsible for the content of external sites.