Ford UK threatened with strike over pensions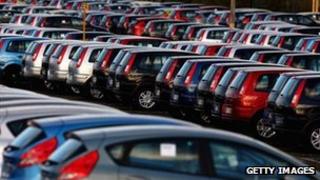 Ford UK has been threatened with its first strike since the 1970s over changes to its pension scheme.
The Unite union, which represents 2,500 staff, said it walked out of talks because Ford wants to close the final-salary scheme to new entrants.
The union said it was "the thin end of the wedge" and would lead to the ultimate closure of the pension scheme.
Ford UK noted that some 80% of private sector firms had closed their final-salary schemes to new hires.
"The company has sought to discuss with the Union the financial challenges of its defined benefit pension funds, which are significantly in deficit, as this is now established competitive practice," said Ford.
"The company has categorically confirmed that it has no plans to close its pension funds to existing members and that the funds remain open to existing members."
The walk-out by Unite follows a similar rejection of the company's offer by its hourly-paid staff, the union said.
"Our members have made it crystal clear that they fiercely oppose the closure... to new entrants," said Unite national officer Roger Maddison.
Talks had been scheduled to take place over three days, on 8-10 November, according to Ford, following the expiry of a previous three-year pay deal agreed in 2008.