UK clocks up record trade deficit in September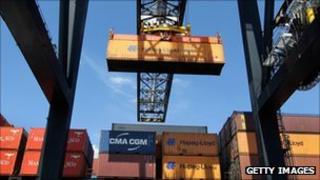 The UK recorded its biggest trade deficit to date in September, while an August jump in exports has been revised away, new data shows.
The difference in value between imports and exports of goods and services in September was £9.8bn, according to the Office for National Statistics (ONS), the worst since data began in 1998.
It rose from £8.6bn in August, thanks to a record jump in imports.
But the August data was itself worse than previously reported.
A month ago, the ONS had reported a record rise in monthly goods exports by the UK.
But new data from HM Revenue and Customs, as well a change in the ONS's seasonal adjustment methodology, has largely eliminated the increase.
In contrast, record exports pushed the trade surplus of Germany - Europe's largest economy - to a three-year high in September, data showed on Tuesday.
'Double-dip'
Meanwhile, in the September data, the jump in UK imports was driven by oil, chemicals and silver.
The trade deficit with non-European Union countries was much worse than expected, which may be particularly worrying as the UK's European export markets are now being badly affected by the eurozone debt crisis and a looming recession.
"A key concern was the fall in goods exports, which fell 1.6% in September," said Chris Williamson of financial data firm Markit.
"Further export losses look likely in coming months, with survey data suggesting the rate of decline could accelerate substantially.
"With domestic demand hit by deficit-fighting austerity measures and export sales falling, it is hard to see what will drive economic growth in coming months, raising the risk of a double-dip recession."
Sterling slip
Other analysts questioned the data, pointing out that the monthly figures can be quite volatile and adding that the widening deficit was driven by an increase in imports, which seemed inconsistent with the subdued mood among UK consumers.
The pound fell sharply as the data was released, and was down over a cent and a half against the dollar in afternoon trading, at about $1.593.
Markets took the data as further evidence of an economic slowdown, which is likely to result in additional money creation by the Bank of England, weighing on the value of sterling.
"The EU trade market is volatile in these challenging economic times - that is why we are working on boosting trade with emerging markets," said the trade and investment minister, Lord Green.
"Trade is at the heart of the government's plan for growth. Through their new strategy, [UK Trade and Industry] is targeting high-growth [small and medium-sized businesses] to encourage them to export and focuses on aiding existing exporters with winning high-value opportunities in overseas markets."