Workers reluctant to change jobs in downturn, ONS says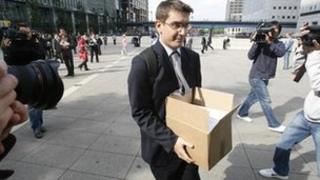 Workers are choosing to stay in their current job rather than move at a time when the labour market is weak, official figures show.
Some 674,000 people left their main job in the second quarter of 2011, 42% down on the peak of 1.17 million in 1998, the Office for National Statistics (ONS) said.
This suggested the UK jobs market was "less dynamic" than in the past.
Slightly more workers chose to leave than were told to go, the ONS said.
Some 57% of those who left did so because they resigned, or chose to leave, compared with 43% leaving involuntarily in the April-to-June period.
Recession effect
The rate at which people leave or change their jobs slows when there is a downturn in the economy, the figures show.
"When job opportunities are limited there are fewer opportunities to move, people are often reluctant to change jobs and some people will become unemployed as businesses shed some of their workforce," the ONS said.
Generally since 1996, people have been were more likely to leave their job by choice, rather than being told to go.
But the gap narrowed from the onset of the 2008-09 recession.
In the second quarter of 2009 - the final quarter of the recession - the same number of people left their jobs voluntarily as those who left involuntarily.
During the recession, the rate at which people left owing to redundancy doubled, with construction, manufacturing, banking and finance the worst hit.
Those affected were mostly in the private sector, with no change in the percentage of people leaving their main job during that time in the public sector.
However, since then, the percentage of public sector workers made to leave their job has doubled, as the government looks to cut jobs in this area.