Dexia hit by losses on Greek debts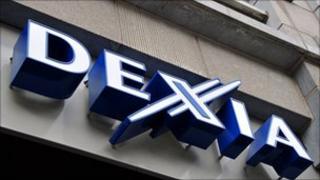 Dexia, the Franco-Belgian bank which was bailed out last month, has been hit by £5.41bn ($8.7bn; 6.32bn euros) of costs relating to the sale of its Belgian bank and losses on Greek debt.
The nationalisation of Dexia Bank Belgium cost it 4bn euros.
Dexia also took a loss of 2.3bn euros on Greek government bonds in the third quarter.
Dexia was the first big European bank to get a bailout in 2011 because of the eurozone crisis.
It was rescued by the French, Belgian and Luxembourg governments to the tune of 90bn euros.
Capital injection
Dexia also detailed its exposure to government bonds in other struggling European economies - 10bn euros in Italy and 1.84bn euros in Portugal.
Bond markets have become increasingly wary of Italy's ability to pay back what it owes, with yields on Italian 10-year government bonds rising above 7%, the highest since the euro was founded in 1999.
The bank also announced that the board had agreed a capital injection of 4.2bn euros to comply with French financial regulations on minimum capital levels. Dexia said it would convert 2.5bn euros of loans into capital for this requirement.
Dexia also said it had made a 135m euro profit on the sale of its Turkish insurance firm, DenizEmeklilik.