Comet electrical stores sold by Kesa for £2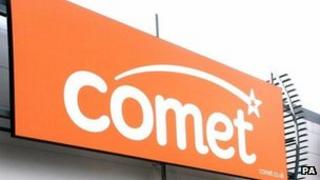 Anglo-French electrical goods retailer Kesa has announced plans to sell off its troubled UK-based Comet stores to a private equity firm for just £2.
The buyer is a group of companies under the name "Hailey" advised by retailer turnaround specialists OpCapita.
Kesa said it would invest £50m itself into the new holding company, and would retain liability for the Comet employees' final salary pension scheme.
Kesa added it would benefit from any subsequent onward sale of the chain.
However, it would only do so if the resale price were greater than £70m.
The investment vehicle, under OpCapita's guidance, has also attracted £30m of outside private equity investment and a £40m loan facility.
Responsibility for warranties and servicing will remain with Comet, but a 73m euro (£62m) fund to support these will be transferred by Kesa to the UK company.
The buyers have promised to keep Comet as a going concern for at least 18 months.
Revenues at the loss-making Comet electrical stores fell 22% over the summer, prompting Kesa's chief executive to say that a decision would be made by Christmas about whether to dispose of Comet.
The sale is expected to involve the closure of some of Comet's 250 stores.
The parent company has already confirmed the closure of 17 Comet stores and "right-sizing" of a further nine in the next three years.
One company that might buy some of the closing stores is Dixons.
"I'm sure there will be a few of those stores which might be of interest to us, so we'll have a close look," Dixons chief executive John Browett told BBC News.
Markets took the news well for most of the day, but then fell in late trading to close down by 2.75%.
The company is expected to delist from London following the Comet sale, leaving it with a listing in Paris only.