Anheuser-Busch InBev profits from price rises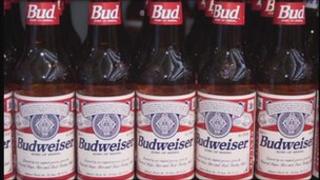 Anheuser-Busch InBev (AB), the world's largest brewer, has reported a rise in profits after selling the same volume of beer for higher prices.
Net profit for the third quarter was $2.03bn (£1.26bn), up 9% on the $1.86bn the company made a year earlier.
The owner of Budweiser reported that although global beer volumes fell by 0.2%, revenue was up 3.6% thanks to price rises in Brazil and the US.
The company said consumers in the US had bought more of its premium brands.
Baltic blues
Markets outside the Americas were not so rosy for AB. In Russia, volumes fell 9.9% in the third quarter because of VAT increases.
Those rises also hit rival brewer Carlsberg, which relies much more heavily on that market. Russia accounts for 40% of Carlsberg's group sales.
The Danish brewer said its market share in Russia had fallen to 37.8% from 39.9%.
Carlsberg reported a net profit of 2.2bn Danish krone (£252.9m; $407.2m), compared with 2.1bn krone at the same time last year, a modest 1.5% rise.
Beer volumes were up 2%, but operating profit fell 21% to 3.3bn krone, as the contraction in the Russian market coincided with rising barley costs due to a bad harvest last year.
"2011 has been a challenging year," said Carlsberg chief executive Jorgen Buhl Rasmussen.